BlackBerry Empathy concept detects your contacts' moods
6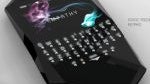 RIM has announced a new concept phone, the
BlackBerry
Empathy, that displays the moods of your contacts. It would work by connecting the device to a biometric ring (mood ring) that would monitor and transmit your mood in real time.
The BlackBerry Empathy was intended to integrate real human emotions with social networking. Co-designer Daniel Yoon explains the mood interface: "Each contact has an avatar that is encompassed by two colored rings. The inner colored ring shows the contact's previous emotional state, and the outer ring represents the contact's current emotional state." It would have an 'Emotional Timeline' that would let you track the moods of yourself and others over time. It would even let you see a person's change in mood after a particular phone call or message.
While a mood ring is obviously a dubious way to judge a person's emotions, the Empathy is a strong concept. What could be a better enhancement of your social network than a live feed of your friends' moods? Rather than a full device, we think a Bluetooth mood ring accessory for multiple operating systems would be more feasible and marketable.
The project is part of a collaboration with the Art Center College of Design. The Empathy would feature a standard portrait QWERTY design on one side, and a full touchscreen on the other. If this device does get produced, we doubt they'll keep the crystal shape, or that ridiculous keyboard.
source:
Yanko Design
via
CrackBerry