BlackBerry Curve 9320 allegedly explodes, starting a fire that burns an 11 year old
23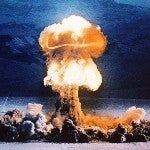 With all of the pressure on RIM to make BlackBerry 10 the saviour of the company, the last thing RIM CEO Thorsten Heins wants to read about is about an exploding BlackBerry, unless the context is about
exploding sales
. Unfortunately for RIM and Heins, the kind of explosion that we are talking about brings to mind a loud boom and lots of smoke and fire. Allegedly, this is what happened to a
BlackBerry Curve 9320
belonging to 11 year old Kian McCreath, who lives in the U.K.
burns on his legs
and his family is asking Canadian based RIM to recall the device. In RIM's defense, the manufacturer has not received the phone or the charger which they would love to analyze. The McCreath family says that they cannot locate the actual device in question.
We don't want to question the integrity of an 11 year old, but surely you remember the guy who swore that his
Samsung Galaxy S III
handset exploded while sitting in his car dock, even though it wasn't plugged into anything. It turned out that the guy's friend had
dropped the device in water and put it in a microwave to dry out
. We are not saying that something like that happened here, but not being able to find the damaged device is a
big red flag
, especially when a photograph supposedly shows the device being held by McCreath.
source:
Crackberry