BlackBerry Bold 9790 goes on sale a bit earlier than expected, but it's priced at $504 (£330)
1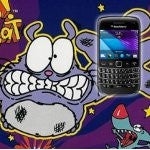 Still considered to be missing in action over here in the US, our friends across the big pond are getting the opportunity of picking up the latest BlackBerry smartphone to come to market – the
Bold 9790
. Although it was destined to become available in the UK starting on January 20th, online retailer
Clove UK
delighted customers by selling the device earlier than expected.
Right now, you can place an order for the
SIM-free version
of the handset for
$504 (£330 VAT included)
, which is a hefty price when you think about it. Frankly, it isn't one of the more premium devices we've seen pushed out of RIM's camp, but nevertheless, it's the latest model from them. Thankfully, the price that Clove is asking for the device is actually less than what was initially expected – well, it's actually £12 cheaper than the previously announced price point.
We know it doesn't break the benchmark for any BlackBerry smartphone released thus far, but when you look at the pricier Bold 9900, it's not as bad some might think initially.
source:
Clove
via
Unwired View