BlackBerry 10 users get update to SuperTube for streaming YouTube videos
72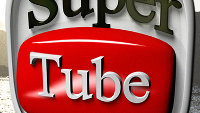 Because the BlackBerry 10 browser is outstanding in the way it handles HTML5, most 'Berry users turn to the mobile version of YouTube to get their daily fix of streaming videos. After all, who could go more than a full day without seeing a cat draw the Mona Lisa using nothing but a #2 pencil? Most of us would never make it more than 24 hours without watching a boxer (the dog, not the pugilist) bark out the opening scene of Romeo and Juliet.
For those who would rather use the official YouTube client on their BlackBerry 10 powered handset, for now, you're out of luck. Yes, you do have a YouTube icon on your phone, but it merely re-directs you to the mobile YouTube site. Nothing wrong with that. But for those who like the whole app experience, there is one called SuperTube, available from BlackBerry World.
SuperTube has just received an update that brings a ton of new features, enhancements and bug fixes to the app. One of the benefits of the update is a 1000% faster loading time for local videos. Shared video links now include the name of the video's author and the title of the clip. For those who put together a playlist, the total time of the list is now included. And if you change the resolution in the middle of watching a video, the clip will no longer start over from the beginning. Additionally, some error message bugs have been fixed, making the app much improved.
For those BlackBerry 10 users who would rather use an app to stream video, you can head over to BlackBerry World to download SuperTube. All BlackBerry 10 powered devices will support the free app, including the new
BlackBerry Z3
.
source:
SuperTube
via
Crackberry