BlackBerry 10 QWERTY keyboard gets "Fantastic" review and the software is unique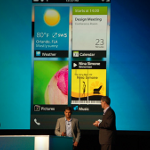 BlackBerry 10 is expected to be launched early in 2013, but that hasn't stopped the Canadian manufacturer from trying to get a positive buzz going for the devices. CIO.com journalist Al Sacco was given a chance to try out two BlackBerry 10 models. One he characterized as being an
evolution of RIM's BlackBerry Bold line
, including a physical QWERTY keyboard that he couldn't stop raving about. Sacco called the keyboard "
Fantastic
" and said that RIM did not let down those fans of the BlackBerry QWERTY. The Bold-esque model also has a touchscreen with a resolution of 720 x 720.
"RIM definitely did not let down customers who love that QWERTY hardware keyboard with this new device. The keyboard is fantastic, and even though I only spent a few minutes typing on it, I was impressed right away and plan to get a new BlackBerry 10 QWERTY smartphone as soon as possible."-Al Sacco
The other BlackBerry 10 model is a full touch screen device that Sacco says resembles the
BlackBerry 10 Dev Alpha device that RIM has been handing out to developers
. He says that some cosmetic changes were made to enhance its looks and the phone is
not as slim as some of today's Android models
. The resolution of this model is 720 x 1280. Sacco is not allowed to give out the specs on the two phones outside of information that is already known, such as the fact that both models have removable batteries.
Turning to the software, Sacco says it is
much more "polished" then when it was displayed at BlackBerry World
. He called it "
smooth and snappy
," which sounds positive. But the most important thing that Sacco noted about the BlackBerry 10 OS is
that it felt unique
. He said that it didn't feel like iOS or Android although it did have a little of webOS in it. Overall, he called the unique qualities of the OS "
refreshing
".
It is just one man's opinion, but it sure sounds like BlackBerry might not be dead yet.
source:
CIO.com
via
BerryReview