Best new Android, iPhone and iPad games for January 2013
14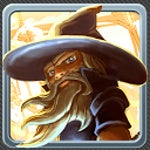 January is over, and it kicked off 2013 with a huge selection of new arrivals in games, right in time to keep you busy during the long wintry nights.
With games like Temple Run 2 and Dungeon Quest that made an entrance in the first month of the new year, there is no time to get bored. And alongside the big titles, there were plenty of games in virtually every genre you can think think of - from puzzles to sports, to adventure and racing.
This time, we've widened our selection of the best games for the month simply because there were too many of them, and all managed to live up to the high standards we've set for this monthly game pick.
So with no further ado, take a look at the finest games that arrived on the Apple App Store and Android's Google Play in January 2013.
Best new Android, iPhone and iPad games for January 2013