Best new Android and iPhone games (June 2nd - June 8th)
4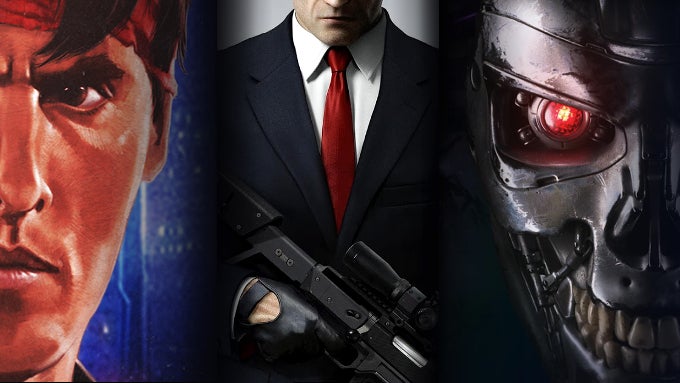 Let's start off the week with some fun with the best new Android and iPhone apps so far in June 2015! In our weekly round up of the best new Android and iPhone games we introduce you to everything new and worthy with no limits to the genre, platform, or price. We can't guarantee that you'd love the genre of the game we've picked, but if you do, chances are you'd spend hours playing one of these games.
We've got quite a few interesting titles this week, among which one can find the Terminator Genisys game, foreshadowing the upcoming 5th movie in the franchise, and an old '90s space fighter game – Terminal Velocity – ported clean, in all its pixelated glory.
Of course, this is just scratching the surface. Scroll on down and take a look of the most interesting game titles we came across this week on the App Store and Play Store.
Terminator Genisys: Revolution
Price: free (in-app purchases)
A 3rd person gallery shooter-type game that has you blasting tinheads from level 1. The game is set in the post-apocalypse future of Terminator and doesn't really seem to tie in with the Genisys film's storyline. But then again, you've got a gun and a legion of T-800 units to blow up, so who cares? Unfortunately, the game follows the well-known freemium model, which will inevitably slow down your progress at some point. Still, even if you don't intend to cough up some cash, it's worth a spin for its nice graphics, scarily animated robots, and nice gunplay.
Hitman: Sniper
Price: $4.99 (in-app purchases)
If you've played the "Hitman: Sniper Challenge" teaser game that was released before the actual Hitman: Absolution's launch, you will know what this mobile game is all about. It's a shooting gallery title that rewards you for taking out your victims quietly and in a way that leaves the least evidence. Each level has a main target and a set of sub-tasks, which, if accomplished, maximize your score. The graphics are great, gun play is on-par, and we really enjoy the "active reload", which has you actually swiping across the screen, making you feel involved even while reloading your gun.
Robbery Bob 2: Double Trouble
Price: $2.99 (in-app purchases)
A top-down puzzler / stealth game mix, this game has you controlling Bob the thief through his antics. You will be met with some pretty interesting opponents and will be given interesting ways to deal with them. It's well-animated, witty, and challenging, surely worth a try if you are a fan of the genre.
Kung Fury Game
Price: free (in-app purchases)
Kung Fury is a Kickstarter-funded, 30-minute movie, created as a homage to '80s cop movies. The reel is frantic, over-the-top, and deliberately silly, and really manages to carry a retro flair. The game is similar in that aspect – it instantly reminds us of retro arcades, both in look and dificulty. And as for gameplay – it's much like One Finger Death Punch – you tap a direction to hit in and try to chain your swings together for successful kills. Missing a hit pretty much means you will get bonked in the head and lose 1/3rd of your HP, which translates to the game becoming really challenging, really fast.
Radical Rappelling
Price: free (in-app pucrhases)
A single-tap arcade game that gets quite frantic once you get the hang of it. Radical Rappelling has you descending down a cliff, collecting points and avoiding obstacles on your way. A pretty fun twitch-reflex title that you can download for free right now.
Terminal Velocity
Price: $2.99
A futuristic starship flight simulator with a lot of lazers and explosions. This title hails all the way from 1995 and it has been ported in all of its pixelated glory – no remastering or refurbishing of any sort. Needless to say, it will appeal more to those who have once played it, or the retro game hunters, so if you identify yourself as a member of one of these groups – you may want to check this one out!
You Must Build a Boat
Price: $2.99
An unlikely mix between match-three puzzle gameplay, pixelated graphics, retro soundtrack, endless runner rules, and RPG elements. The protagonist of this game really likes diving into dungeons full of creatures that want to kill him. The main game mechaic is connecting boxes of the same type, much like Bejeweled or Candy Crush. In this game, connecting boxes of a certain type leads to a certain action performed by your character – attack, defense, etc. Once a mission is over, you can upgrade your hub (which is a ship – thus, the name) and buy better attack and defence stats. A pretty interesting and solidly made take on the connect 4 - RPG mashup.
Move the Walls
Price: free (in-app purchases)
An endless runner, which spins the rules around a bit. Your main character is a spaceship-like figure, which only moves in a straight direction. Your job is to keep it from hitting any obstacles. To do this, you don't move the ship, but the walls themselves. This kind of role-reversal is a mixture of engaging, infuriating, and addicting and the game is a pretty good choice for quick gaming sessions throughout the day.
Inch by Inch
Price: free (in-app purchases)
A tap-to-move puzzler which has you controlling a cute, little worm through short, but life-threatening, levels. Tapping once moves the protagonist's front end forward, tapping a second time makes its rear catch up. Add a moving obstacle to the level and you can easily end up with a worm split in half. A fun little time-burner.
Ember Conflict
Price: free (in-app purchases)
A real-time strategy that focuses on short, action-packed multiplayer brawls. After you pass a few levels of training missions, you are finally given your first 6 soldiers and can jump in battle against other players. Controlling troops is easy and responsive, utilizing a "tap and drag" interface. You can venture into battle alone, or team up with a friend.
Battles of the Ancient World III
Price: $2.99
The third game in a series of titles dedicated to historical battles, this is a turn-based strategy that has you controlling your legions over a battlefield divided in hexagons – much like the SSI strategies of the '90s. You can revisit each battle and play as each army, but sadly – there is no multiplayer mode.
Goatup 2
Price: free
Ah, goats – certainly a popular animal in today's gaming world. We will leave speculations as to why that is for another time. Goatup 2 is a retro-styled continuous-climbing game with numerous references to gaming classics from the '80s. The title is overly silly, yet challenging and we guess it will easily appeal to nostalgic old game lovers.