Best Buy reorganizes around connected devices
8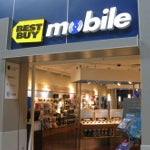 Seeking to boost revenue and capitalize on some hot businesses,
Best Buy
says it will combine several of its retail groups into one "connectivity business group". The group will sell cell phones, computers, tablets, e-readers and the appropriate service plans at Best Buy and Best Buy Mobile stores. The "connectivity business group", called CBG for short, seems similar to what the retailer already offers with its Best Buy Mobile stores.
The difference between CBG and Best Buy Mobile is that the new initiative is much larger than the latter. The group will be comprised of 35,000 employees with 15,000 coming from the latter and the remainder moving over from the computer and tablet area at Best Buy. The products inside the CBG group make up
more than half
of Best Buy's in-store sales as well as representing the
fastest growing sectors
for the company, outside of computers. Since Best Buy Mobile salespeople are required to have twice as much training (80 hours vs. 40 hours), those coming over from Best Buy will probably be required to undergo additional training.
Don't expect to see Best Buy change the name of its stores or even use the word connectivity in ads or in-store promotions. What you might notice at Best Buy is that all of the CBG products will be
closer to each other on the floor
. Cell phones might be next to e-readers, laptops and other CBG products. You should also see more non-phone items at Best Buy Mobile. The goal is to grab the consumer who doesn't realize that he can buy a 3G or 4G tablet or laptop. With cell phones and service plans the largest generator of revenue at Best Buy, getting buyers to move over to other connected products can improve business.
For the retailer, certain devices are not producing business like they could. Best Buy's share of connected tablet and computer sales is
only in the single digits
. Shawn Score, the President of Best Buy Mobile, says that "
Best Buy's share of people buying mobile broadband is miniscule."
The retailer blames this on customers reluctance to purchase costly data plans for tablets or netbooks and Best Buy expects to eventually see carriers offer hourly or daily rates for a data connection. In fact, the retailer says that one unnamed mobile operator will offer a shared data plan later this year, that can work on all of a customer's connected devices. That should bring more business to Best Buy's CBG group and make it a timely move by the retailer.
source:
Forbes