Best Android, iPhone, iPad and Windows Phone action RPG games of 2015
7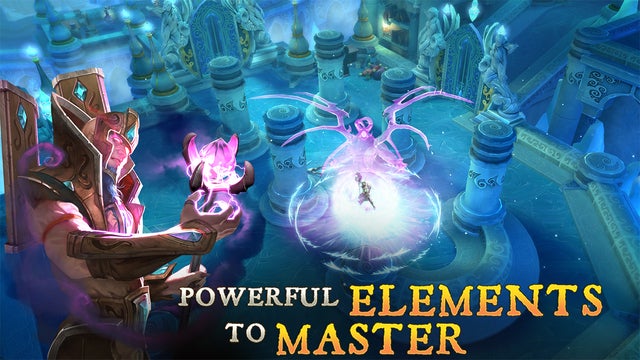 We're nearly halfway through 2015, and with so many great new RPG games for Android and iOS, it's sometimes hard to keep track. It's time to make some order in that list every gamer has in their head about those games that you still haven't played, but absolutely must not forget to check out.
In this selection, we look at the best iPhone, iPad, Android and Windows Phone action RPG games of 2015 and 2015 only. This means two things: we will include only the very best games that you won't regret playing, and all of them will be released in 2015.
magical worlds that await us with monsters, heroes and lots of hacking and slashing
What is the action RPG genre? Game genres are a murky territory with many intersections and you will see that we include both games set in a top-down, isometric perspective, as well as third-person dungeon crawlers, but the key element that unites them all is that constant hero development and the focus on action, hacking and slashing.
In terms of platforms, iOS with the iPhone and iPad are still the best devices for gamers fond of this genre as the platform gets the most great games first. Android is a close runner-up, though, and you'd see that it has all the top action RPGs available (even though, some came with significant delays). Finally, Windows Phone has only got one of the best new action RPGs, placing it dead last.
Enough with all the intros, though, let's jump right in those magical worlds that await us with monsters, heroes and lots of hacking and slashing: these are the best action RPG games for iPhone, iPad, Android, and Windows.
#8: The Barbarian
Price: $9.99
The Barbarian is a top-down action RPG that is built from the scratch with mobile in mind, tailor-made for touch controls. It features a virtual world that you are free to roam (it's an open world), and your character can develop differently depending on the skills and spells you choose to learn.
#7: Transistor
Price: $9.99
The science fiction RPG Transistor that will be familiar to lovers of the genre who own consoles has arrived on mobile, retaining a lot of its visual excellence and intricate combat and gameplay options. The game has been redone with new touch controls, but - luckily - you also have the option to hook up a gamepad and use it to play on your phone/tablet. A fast-paced action RPG, Transistor walks you through mysteries as you pursue its former owners through a rich and atmospheric story.
#6: Legend of Grimrock
Price: $4.99
Legend of Grimrock is a dungeon crawling role playing game with an oldschool heart but a modern execution. A group of prisoners are sentenced to certain death by exiling them to the secluded Mount Grimrock for vile crimes they may or may not have committed. Unbeknownst to their captors, the mountain is riddled with ancient tunnels, dungeons and tombs built by crumbled civilizations long perished now. If they ever wish to see daylight again and reclaim their freedom the ragtag group of prisoners must form a team and descend through the mountain, level by level.
The game brings back the oldschool challenge with highly tactical real-time combat and grid-based movement, devious hidden switches and secrets as well as deadly traps and horrible monsters. Legend of Grimrock puts an emphasis on puzzles and exploration and the wits and perception of the player are more important tools than even the sharpest of swords could be.
#5: Ire: Blood Memory
Price: Free
A surprising new arrival from an independent studio in Japan, Ire: Blood Memory is an action RPG/hack'n'slash game done with a lot of taste and knowledge of the genre. It features clever character development scheme, weird creatures, and battle that revolves around tactical choices, all spiced up with great graphics.
#4: Taichi Panda
Price: Free
Taichi Panda is an action-filled dungeon crawler where you take over the role of a kung-fu panda. You get to grow and develop this cute character in an attempt to restore the cosmic balance. The game follows the free to play model.


Implosion - Never Lose Hope is out for iPhone and iPad now, and it's an outstanding game. An RPG/combat game a la Diablo with an isometric perspective, Implosion brings stunning graphics and action-packed gameplay. The story is set twenty years after the fall of Earth, where the last humans are - once again - faced with extinction. A mysterious life form known as the XADA is taking over, and the only thing that can stop it is the technologically most advanced War-Mech series III battle suit.
#2: Heroes and Castles 2
Price: $1.99
The sequel is finally out: Heroes and Castles 2 is the second in the series of third-person action-RPGs mixed up with strategy elements and castle defense. In this latest game, you get to choose from one of three powerful races, customize your hero, summon a massive army to fight beside you in battle, defend your castle, conquer lands, and ultimately destroy the enemy stronghold.
#1: Dungeon Hunter 5
Price: Free
A massive, 1.33GB download, Dungeon Hunter 5 is the latest edition of one of the best and most dynamic hack'n'slash action RPG games for mobile. With an immense single-player campaign consisting of 5 vast realms, and with the option to participate in co-operative gameplay, DH5 offers many hours of gameplay. The story takes place in the times after the demon invasion in the Kingdom of Valenthia has been stopped, but the world remains shattered.