Best Android, iPhone and iPad fighting games of 2015
14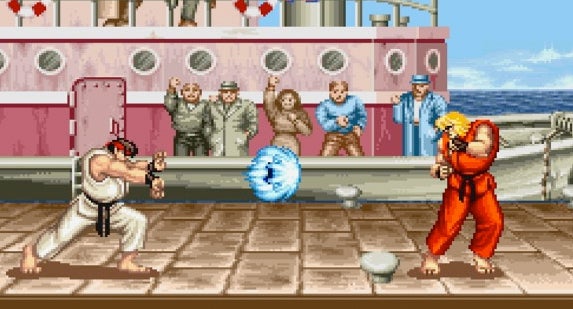 We're nearly halfway through 2015, and with so many great fighting games for Android and iOS, it's sometimes hard to keep track. It's time to make some order in that list every gamer has in their head about those games that you still haven't played, but absolutely must not forget to check out.

In this selection, we look at the best iPhone, iPad and Android fighting games of 2015 and 2015 only. This means two things: we will include only the very best games that you won't regret playing, and all of them will be released in 2015.
Fighting games come in two types these days
Ever since the roaring success of WWE Immortals in the beginning of the year, developers seem to have agreed that fighting games on mobile need to do away with the complexity of combos and fancy moves. Instead, the best new games - including the new Mortal Kombat X - make fighting more of a role-playing experience with the fighting itself consisting of simple-minded attacks and blocks, and the focus being on unlocking new characters and upgrading your current ones.
We're not sure we're particularly fond of that new type of gameplay, but it does have its charm, and - luckily - other game studios still release good old retro fighting games (hello, SNK Playmore!). We've included both types of fighting games in this selection of the best new Android, iPhone and iPad fighting games. Explore them right below.
#1: Mortal Kombat X
Read our review here
Price: Free (with in-app purchases)
Mortal Kombat X on mobile is not at all like Mortal Kombat.
It has borrowed the name, but it's not about fighting anymore - sure, this is technically still a fighting game, but the fight itself is dumbed down to the tedious tri-fecta of tapping, blocking and power moves. In-app purchases could also get annoying, but not terribly so. Nonetheless, we did enjoy Mortal Kombat X for another reason - hero development. Yes, it's hard to say, but this latest edition feels a lot like a role-playing game: you equip your heroes with items, spend coins to upgrade their skills, while the fighting kind of takes care of itself.
Overall, though, this is not the Mortal Kombat you've been waiting for. It's just a different game. A fun one, but not something that lives up to the sky-high expectations.
#2: WWE Immortals
Price: Free (with in-app purchases)
WWE Immortals is a free-to-play fighting game in the best traditions of Mortal Kombat (MK loyalists might actually be pretty outraged at the level of 'borrowing' here), but all the awesomeness of the characters of the world wrestling championship. Can you smell what The Rock is cooking? He's not the only familiar character you'd see - John Cena, Triple H, Undertaker, Big Show, and many others are included, plus, hopes are that more characters will be added with their signature moves in future updates.
Keep in mind, though, that this game does rely on in-app purchases, which might annoy some of you. For all else, the fighting in WWE Immortals is fierce, with combos, player swaps, and signature moves: all the right ingredients.
#3: The King of Fighters-i 2012
Price: Free (with in-app purchases)
In The King of Fighters-i 2012, 6 game modes are available: "SINGLE BATTLE" for 1-on-1 fights, "TEAM BATTLE" for classic KOF 3-on-3 gameplay, "ENDLESS" Mode to defeat as many opponents as possible with one character, "CHALLENGE" Mode to clear trials by fulfilling requirements, the newly introduced "TIME ATTACK" Mode to compete for the best clear times by winning 10 matches, and "TRAINING" Mode to get accustomed to the Virtual Pad-based controls and practice your combos.
#4: Garou: Mark of the Wolves
Price: $3.99
This latest installment in the legendary series from SNK welcomes a new hero with Rock Howard, the posthumous successor of Geese Howard who was raised by the "Legendary Wolf" Terry Bogard, and a host of all-new charismatic characters with their own unique background story and goals. The game comes with a fully redesigned game system and a new game mechanic that can be set anywhere on the character's lifebar and gives access to a unique attack and significantly increases the character's hitting power. Moreover, the "JUST DEFENDED" mechanic offers a multitude of bonuses to the player if he successfully blocks his enemy's attacks at the last moment. Finally, the "BREAKING" feature allows to cancel specific special moves to other for impressive combos and damage.
#5: Marvel
#5: Marvel Future Fight
Price: Free (with in-app purchases)




An open-world fighting game with great graphics and an action-packed gameplay, Marvel Future Fight is a new free to play game with in-app purchases available on Android and iOS now. You get to create your squad from Avengers like Hulk, Iron Man, and Captain America, as well as other famous Marvel heroes like Spider-Man and Daredevil on a world-saving mission.




#6: Fatal Fury Special

Price: $3.99




Fatal Fury Special is a huge update over Fatal Fury with an overall revised game balance and a brand new combo system. Characters can now activate their Desperation Move to change the outcome of the battle. A total of 16 characters are available, and in addition to the series' iconic characters Terry Bogard, Andy Bogard, and Joe Higashi, popular SNK characters such as Mai Shiranui, Geese Howard, and Wolfgang Krauser join the roster. The game is a NEOGEO port with added features such as a 6 button layout featuring exclusive "SP" (Simplified Special Moves activation / Line Blast) and "LS" (Line Sway) buttons.




#7: EA Sports UFC

Price: Free (with in-app purchases)




Another sports game in our selection, EA Sports UFC allows you to take over intense MMA fights with great visuals and action-filled gameplay. You have a choice of over 70 fighters split in four divisions. Followers of notable fighters will recognize Jon Jones' spinning back elbow and Georges St-Pierre's superman punch in addition to other signature moves.




#8: WWE 2K

Price: $7.99




A fighting game in the style of WWE Immortals, WWE 2K allows you to create and develop your own wrestling hero, perfecting your moves, walking through a career mode, or fighting in real-time multiplayer.