Bem Wireless invents a wearable boombox by putting a Bluetooth speaker on your wrist
11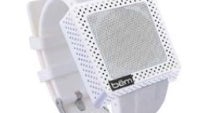 Nothing says "I love music" like wearing a speaker on your wrist, instead of a watch, does it? There are moving equalizer t-shirts, and then there's the first-ever Speaker Band, announced by Bem Wireless – a company known for mobile Bluetooth speakers and other stylish multimedia accessories.
As gimmicky as it looks, Bem's gizmo actually serves as a capable companion to your smartphone or tablet. It connects via Bluetooth to your mobile device, and lets you answer phone calls via its built-in microphone. There's a caller ID feature too, which notifies the user and, perhaps, those around him who's calling. Actually, they'll be able to tag along for the entire conversation, which sounds more than a little unnerving. On the more sensible side, the wearable speaker has controls to play, pause, skip and reverse music tracks from your mobile.
Unfortunately, it's a given that this little speaker will sound like small speakers usually do. It's also obvious that a Bluetooth-headset or a pair of earphones will get you much further in noisy environments. And having an entire crowd hear your private conversation hardly is a delightful proposition. Still, let's not be cruel. This is a wearable speaker – something offbeat and original in a flood of smart wrist-bands that coax you into wellness. It will also cost $49.99, which is surprisingly low in comparison with the expensive wearables announced at CES.
The Bem Speaker Band will be available in six colors - black, white, blue, red, and green. Shipping should start by the end of January.
source:
AppAdvice