Belkin is the first "real" third party to unveil Lightning connector accessories
8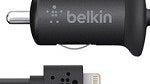 Reactions were mixed, but not overly enthusiastic about the new Lightning connector released by Apple with the introduction of the
iPhone 5
. The reaction was less than mixed when it was found that the Lightning 8-pin plug was a "protected" accessory, using a
rudimentary authentication chip
to enable the transfer for data and manage charging of the device.
Naturally, the 8-pin plug to get ripped apart and examined. It was found that
the chip was not so secure
and all was downhill from there as
cheap third-party
cables became available at a
fraction of the cost
of the "real" Lightning cable.
Apple is getting ready to brief "approved" third-party vendors at the MFi Technology Summit for purposes of making accessories that will work with the new iPhone, iPod and iPad. MFi means, "Made for iPhone/iPod/iPad," and that event begins November 7th in China. Despite that, Belkin is the first to arrive on the scene with a working car-charger for your iPhone 5 ($29.99) and a Charge & Sync Dock ($29.99). The Charge & Sync Dock uses your existing Lightning cable that came with your iPhone, so it is not so much a groundbreaking accessory, it is not a bad looking though.
Both are available for pre-order and will ship by November 15th. We placed some pictures of the dock below as well as a video about the car charger, because…they are just so complex.
sources:
Belkin
via
9to5Mac