Behold the world's smallest smartphone antenna
14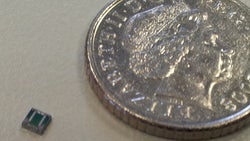 After seven years of research and hard work, scientists from Sofant Technologies in Edinburgh have developed what is referred to as the world's smallest smart antenna. Their creation is meant to make poor signal strength a thing of the past while providing excellent performance when used with next-gen networks operating on the 4G LTE standard.
The trick? A
miniature electro-mechanical module controls a steerable antenna
while working in tandem with the maker's intelligent software. As a result, their design operates more efficiently, manages to maintain a strong signal, and helps prolong battery life.
"Antenna design has not kept pace with the rapid evolution of smart phone technology. New communication protocols, such as LTE and 4G, mean more pressure than ever on existing antenna technology, further impacting smart phone performance and user experience,"
noted Sergio Tansini, CEO of Sofant.
The next step for Sofant is to try licensing its smart antenna to smartphone manufacturers. If all goes as planned, over $16 million are going to end up in the company's bank account, while we get to enjoy better reception while using our high-tech handsets. Reportedly, several major companies have already shown interest in Sofant designs, so their technology might make end up being used in a commercial product sooner than we think.