Before 10.1 is released, some features of BlackBerry 10.2 announced
15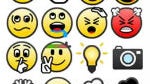 Not too long ago, BlackBerry announced
BlackBerry 10.1
, the first update for the company's new OS, and it has only been in the hands of users for a couple weeks now. But, that doesn't mean we can't keep looking ahead to the future. BlackBerry Product Manager, Michael Clewley has announced a few of the features that users can look forward to in BlackBerry 10.2, which should be released later in the year.
There was no secret that BlackBerry was already working on the 10.2 update, but this is the first time we have info on what will be in the update. Clewley made the announcement on his BlackBerry Messenger Channel. Clewley only listed 4 of the features on the way in 10.2, but they are pretty good ones. First off, 10.2 will finally bring support for
standard unicode emojis
, which will be nice when chatting cross-platform on BBM. Next, remembering things will get easier with options for
multiple alarms
, as well as
setting a time to remember an item
. Last, but maybe best of all, 10.2 will bring support for Level 1 Notifications, which are used to mark a notification as urgent.
No word on the exact release of 10.2, but the SDK for BB10.2 is planned to be released next month.
Recommended Stories