Beautiful iPhone 7 concept video dreams of a mirror finish
20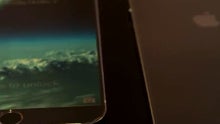 We showed you one
wacky iPhone 7 concept
the other day, but this next one, rendered by Jermaine Smith, is on the other side of the spectrum. It doesn't introduce revolutionary, but quite unbelievable design language for the next iPhone, building strong on the current design hints instead.
As you can see in the video below, the graphics artists has tried to solve Apple's screen-to-body ratio puzzle by shrinking the home key, while keeping its signature round shape, plus the bezels have been shrunk all around in general. The seemingly improved screen-to-body ratio would be a welcome change, and the mirrored finish on the back suggested a new premium material for the housing.
The iPhone 7 concept is also equipped with USB Type-C connector, and a 16 MP camera with optical image stabilization, though both of these are unlikely to materialize, knowing Apple's typical upgrade schedule. The iPhone 7 will likely keep the 12 MP sensor from the 6s, perhaps only adding an OIS system to it, plus the trademark Lightning connector seems to be here to stay for a long time. Another improbable development is the AMOLED display listing, which, according to analysts, will be a
wishful thinking for an iPhone at least for the next few years
. That's still a concept, though, and beautifully rendered at that, so anything goes before the iPhone 7 becomes a reality.