Beautiful Widgets are back, baby
7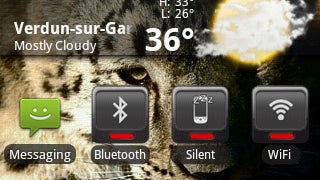 Two days ago we learned that one of our favorite Android Apps,
Beautiful Widgets
, was forced off the Market. This is because HTC felt it looked to similar to their own SenseUI/TouchFLO home screen widget, and they sent
LevelUp Studio
a cease and desist letter. At that time,
we informed you
how current users of Beautiful Widgets could back-up the app using Astro, as many felt it was gone for good. But you know the old saying..."you can't keep a good thing down", and today an
updated version of Beautiful Widgets
made its way to the Android Market. This new version has a different layout and appearence, so hopefully this is enough to make HTC happy (and to stop legal action). If you update to the new version, but don't like it, and have the older one backed-up, you can always uninstall and revert back to the original one by installing the .apk file. So which version of Beautiful Widgets do you like better, the new one or the original? Let us know in the comment section below.
source:
LevelUp Studio
New Beautiful Widgets | Original Beautiful Widgets