Beats' World Cup ad has the Apple iPhone 5s front and center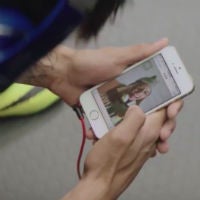 Apple's
purchase of Beats
hasn't been officially formalized and passed by regulatory bodies that watch over multi-billion dollar acquisitions, but the two sides do seem to be cozying up already. Dr. Dre made his fairly awkward phone call appearance during the WWDC keynote, and now the iPhone 5s is featured in the Beats World Cup ad alongside a ton of celebrities.
The ad itself is less of an ad for the new Beats Solo 2, and more of an ad for the various Solo 2 spots that are destined to play throughout the World Cup. The video is entitled "The Game Before The Game" and starts out with Brazilian footballer (soccer player) Neymar Jr speaking to his dad on his iPhone 5s. His dad is giving advice about the big stage of the World Cup, and then the ad essentially breaks into a full on music video.
Throughout the rest of the ad, there are tons of footballers (who we won't pretend to recognize other than Jozy Altidore), as well as plenty of non-soccer-related celebs like Serena Williams, Nicki Minaj, Lil Wayne, Stuart Scott, and LeBron James. We have been curious about LeBron's connection to Beats following its purchase by Apple, because LeBron is becoming the US face of Apple rival Samsung. But, supposedly, LeBron wasn't planned to be in the ad, but he approached Beats and asked to be in it. As we mentioned, this kind of star-power is likely
one of the reasons
behind Apple's big spending spree.