Battery life comparison: Samsung Galaxy S6 vs Apple iPhone 6 vs iPhone 6 Plus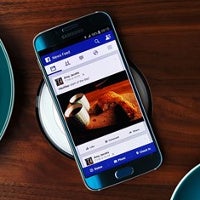 The Samsung Galaxy S6 battery has actually gotten smaller than it was on its predecessor: a 2,550mAh cell comes to replace the 2,800mAh battery pack on the Galaxy S5, but in exchange for that we get a slimmer and lighter device.
What's even better, Samsung claims that it has managed to retain battery level on about the same level and even better thanks to a number of factors like the more efficient processor and improvements in Android 5.0 Lollipop.
But how does the battery life of the Galaxy S6 compare to that of its biggest rivals: the Apple
iPhone 6
and
iPhone 6 Plus
. Luckily, both companies are giving us detailed and directly comparable official figures for Wi-Fi browsing, LTE browsing, Video playback, and Music playback longevity.
Samsung is, naturally, quick to point out that its S6 actually beats the iPhone 6 by a slow margin in almost all categories (the iPhone 6 lasts a bit longer for music playback, but all else is in favor of the S6). And when you compare it with the very long lasting iPhone 6 Plus, we're seeing that it falls a bit short, but the difference is really very negligible.
Take a look at the official battery life ratings and how they compare between the Galaxy S6, iPhone 6 and iPhone 6 Plus.