Bad news for Google Wallet: Samsung and Visa agree on worldwide NFC deal
29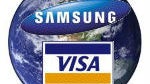 This isn't the first deal that Samsung and Visa have made for mobile payments via NFC. The two companies first started working together for the
London Olympics
last year, but this new deal has a much wider scope, and will have a much bigger impact on the Android ecosystem and Google Wallet in particular.
The new deal between Samsung and Visa is a worldwide NFC deal, and it will mean that Visa's payWave app comes preinstalled on every new Samsung device that has NFC. The deal also includes an interesting rider allowing adding the option for financial institutions to launch large scale mobile (NFC) payment programs using Visa's Mobile Provisioning Service (MPS). By employing MPS, Samsung will offer banks the ability to load payment account information over-the-air to a secure chip embedded in Samsung devices.
This is a big deal for Samsung and Visa, but given how much sway Samsung holds in the mobile market, especially the Android ecosystem, it could be trouble for alternatives like Google Wallet and ISIS. Both Google Wallet and ISIS offer more functionality by allowing other cards aside from Visa. It's unclear how the contract with Visa would affect Samsung's ability to offer other mobile payment apps, but at the least there's no doubt that Samsung and Visa are going to put a lot of marketing behind this effort, which could drown out the competition.