BBC releases Doctor Who game for Android
8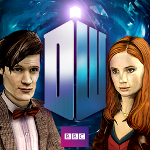 Mobile gaming is the place to be. It doesn't cost developers as much to make a mobile game as a traditional console/PC game, and even when free and ad-supported, mobile games can
generate quite a bit of revenue
(and it seems reasonable that those projections are very low compared to what is likely being made now.) So, BBC is jumping into the gaming business with Doctor Who: The Mazes of Time.
Doctor Who is a 3D adventure/puzzle game in which you have to save a family that has been sent back in time by a nasty Dalek. The game should naturally appeal to Doctor Who fans, but even those who don't know the series should have fun with the game, assuming the bugs get fixed soon. As of this writing, early reviews on the game weren't that good because of force-close issues and troubles with downloadable content. We had planned to test the app and let you know if the reports were true, but the game needs 45MB free for the initial install and the Nexus One we planned to use only had 30MB free. When working, Doctor Who features:
• Travel through time and space to seven unique locations and over 100 levels
• Increasingly complex environmental challenges to challenge your mind and reflexes
• Play as both the Doctor and his companion, Amy Pond, utilising their unique skills and abilities to solve challenges
• Features Daleks, Cybermen and Silurians – each with unique behaviour that requires different strategies of stealth and subterfuge to complete levels
• Authentic music from the show
• Wide variety of OpenFeint achievements
Doctor Who is free in the Android Market for most users, although it seems if you live in the UK the game will cost you. All versions of the game come with downloadable content. As we said, there are bugs reported, but that's only based on 7 reviews in the Market, so things may not be as bad as they seem.