Ask Ziggy for Windows Phone does its best Siri impersonation
12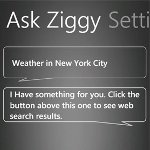 A new app known as
Ask Ziggy
has been introduced to the Windows Phone Marketplace that tries its best to impersonate Apple's Siri personal assistant by using voice recognition to perform basic tasks such as checking the weather…
Ever since Apple unleashed
Siri
to the masses with the release of the iPhone 4S, many developers have attempted to replicate the functionality with apps of their own. Android has seen a fair share of Siri wannabes hit the market but none has come close to what Apple has put on their flagship smartphone. Sure, many view Siri as a novelty or even the greatest thing they'll never use but there is no denying that it is impressive and has a bright future.
Ask Ziggy is a nice attempt at bringing
Siri like voice controls to the Windows Phone platform
. The operating system already had basic voice recognition features such as the ability to place calls or send texts just by speaking it, but Ask Ziggy takes voice recognition a step further. Users can use the app to
check on weather
, the status of a scheduled flight, or even
ask it to complete calculations
for you.
The app is said to use
Nuance's popular technology
and features a user interface similar to what Apple employs with Siri. It uses conversation style word bubbles to organize what you are saying as well as Ziggy. The app can be had for free so check it out for yourself in the video below and tell us what you think of Ask Ziggy.
source:
Engadget