Arrested Development: Samsung chairman relatives fail in a $4 billion lawsuit against him
15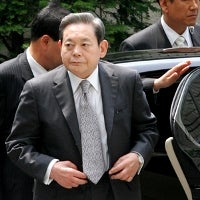 Samsung's esteemed chairman Lee-kun Hee is overseeing a multibillion empire, which he's been creating for decades now, but when it comes to relatives getting in the way, all bets are off, even in a family-run
chaebol like Samsung
.
Lee Kun-hee's siblings filed a lawsuit demanding more shares in the company, as heirs of Samsung's founder in their turn, while Lee's lawyers argued that his father named him a successor, and he was the one who turned the relatively small company to the world-class conglomerate it is now.
The plaintiffs were seeking about $4 billion in shares from the various company holdings, but the South Korean court just ruled today in Lee Kun-hee favor, avoiding a wave of disturbance and reshuffling going through the intricate network of shareholder layers around the group's numerous businesses.
"
Regardless of the truth of what happened or the final outcome of this case, I think it may also have been one of the late founder's wishes that both parties have a happy life together with no quarrels,
" said the judge before the verdict.
The ruling comes at a time when South Korea is a bit fed up with family-run chaebols that rule the country, and is ultimately deemed positive for Samsung, as its shares shot up 3% on the news. Check out how
Samsung rose to a chaebol prominence
for more info on the company culture.