Apple's new iOS Maps mistakes the names of oceans, asks you to jump off a bridge
99+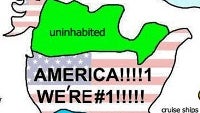 Apple's
new Maps application in iOS 6
is... new. So new that we haven't seen much of it yet, but developers who are most eager to try it out have already found some minor mistakes. Like, the maps application will just ask you to take a turn off a bridge, which, you know, means to jump off of it.
Nitpicking, eh? Okay, how about the fact that it actually thinks Asia and Australia are separated by... hold on... the Arctic Ocean. The African continent also happens to be known as the "North Pacific Ocean" and Greenland as the "Indian Ocean."
Next up, the United States might turn out to become Mexico, or who knows what. In other words, those are some pretty serious mistakes. Luckily, iOS 6 is still in beta and Apple will surely fix those by the final release, but right now the maps application starts off with a funny blunder.