Apple's location-gate scandal reaches South Park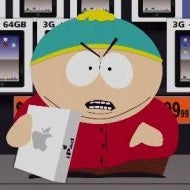 Apple's location-gate data scandalmight have been slightly overblown by the media, but wait until yousee what happens in the peaceful town of South Park, Colorado.Fourth-grader Kyle Broflovski felt safe hanging out with hisbrand-new iPad until Apple representatives tracked him. Just becausehe failed to read the ever changing terms and conditions. Somewhere in the episode, one of the characters says: "when the police want to knowwhere somebody is, they ask Apple." Funny because after the location tracking "bug" was found, it was unveiled that the police had actually been using the logs for months.

Whathappens next in the episode is a disturbing (and disgusting) story of dramatic twists and a survival ending witha revolutionary new half-human half-computerized product. All possible by agreeing to a number ofsimple terms including being tracked at all times. We won't spoil thefun of realizing what the Human CentiPad is, but it's not pretty.While Apple were just quick enough to post an official reply to the allegations stating that they'll fix the bug soon, it's a goodreminder of just how vulnerable personal data could be. Check out the link below for the full episode, but before that ask yourself - did youagree to Apple's Terms and Conditions without reading them too?
source: South Park Season 15 Episode 1