Apple's iPhones are the world's most popular camera devices, followed by Canon's and Samsung's
39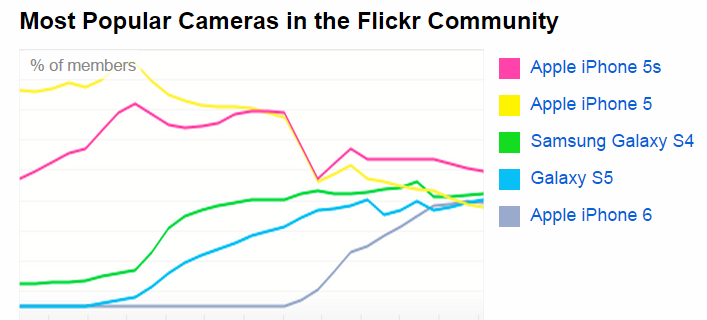 For years now, we've been saying that smartphones are rapidly replacing dedicated cameras, and data from Flickr – one of the largest photo sharing platforms on the planet – has finally confirmed that.
According to Flickr's usage statistic, the combined popularity of 19 different Apple devices make the company's wares the most popular for taking snaps, followed by the hundreds of Canon, Samsung, Nikon, and Sony devices (in that order). With the exception of Canon and Nikon, we're exclusively talking about smartphone devices, with the Apple iPhone 5s proving the most popular model among the Flickr community, trailed by the Samsung Galaxy S4, the Samsung Galaxy S5, and the iPhone 6 and 5.
Beyond the aforementioned Top 5, we've got other major smartphone manufacturers like HTC (#6), Motorola (#7), LG (#11), and Nokia (#13). Curiously enough, while all of its competitors have their flagships ranked highest, in Motorola's camp we're almost exclusively looking at lower end devices, such as the Moto G, Moto G2, and the Moto X (2013).

Obviously, these rankings are only accurate to the extent that we consider the Flickr community representative of the (western) world. In other words, Chinese brands, whose customers are typically invested in local competitors to Flickr, are greatly underrepresented here. Still, even with those clear limitations in mind, it's hard arguing that Apple's devices are clearly a user's favorite when it comes to snapping away at the world around us.