Apple's iPad is popular in business, but do not rule out Windows 8 tablets
4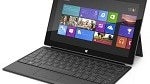 A former AMD executive, turned consultant and industry analyst, Patrick Moorhead, put together an interesting report about Windows tablets versus the super-popular iPad in the enterprise environment.
Comparing sales figures between Windows 8 tablets and the iPad is an exercise in futility, in less than three years, Apple has sold over 120 million iPads, and iOS tablets hold a far greater share of the enterprise environment than any other platform.
Analysts estimate that Microsoft has move about 1.5 million Surface tablets. In the grand landscape, it looks like an insuperable challenge to Microsoft and putting Windows tablets in the hands of executives. However, Mr. Moorhead believes that Windows 8 and its touch-centric user experience is going play a much larger role, and for multiple reasons.
iPads found support in the enterprise through user demand mostly. When a CEO tells an IT department they want to be able to use their iPad, the CEO will often get his or her way. Indeed, IT departments will continue to support iOS in this fashion for the foreseeable future. However, IT departments do have to contend with added costs and overhead to support them in the enterprise.
A Windows centric office has IT management infrastructure built in essentially. iOS devices require the purchase of additional tools to secure and manage. Enterprise software that is not optimized for iOS ends up having to be rewritten to work on the tablet, and a native Office suite is still not available, although the web-based Office suite has been optimized for touch. Peripheral hardware may not work either, and there is no guarantee the tools are available to make them work. Finally, if a iPad is broken, it is not so easy or cost effective to repair, putting a high replacement cost on the radar as well.
Granted, neither of
Microsoft's Surface tablets
are considered a
repairman's dream
, but Moorhead's analysis calls the new Windows 8 tablets a "new breed of enterprise tablet" and provides some cogent comparisons that matter to IT professionals.
This analysis does not magically remove the challenges facing Microsoft and Windows 8, but when companies are constantly examining the bottom line, they will weigh these factors and more. While many companies adopt a "bring your own device" approach, where certain tools are involved, realities like this could very well undermine BYOD policies. Couple the strong market share the OEMs like HP, Lenovo and Dell have in the enterprise, and it certainly makes it seem that Apple's initial lead in tablets is "marginalized."
sources:
Moor Insights & Strategy
via
CITEworld
Images from Moor Insights report.
Recommended Stories