Apple's "bounced check" may lead to dismissal of German lawsuit against Samsung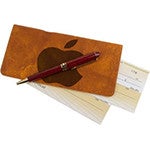 Here's one of those weird stories that makes you shake your head and laugh. In German lawsuits it's typical for the companies involved to place a bond with the court – the point of the bond is to make sure that if the plaintiff loses they are able to pay the court costs of the defendant. Apple of course has mountains of cash, but their improperly executed $280,000 bond may cause a German court to dismiss the entire case at Apple's expense, forcing the Cupertino Crew to decide whether they want to start over from scratch, or move on.
There appear to be two problems with Apple's bond
. First, the signatures on the check, which was underwritten by Deutsche Bank, appear to have been signed by two individuals who don't actually have the authority to sign it. Banks have a list of employees that are granted legal signatory powers – they can sign things that Deutsche Bank is legally obligated to. Obviously having signatures from other employees could invalidate the bond.
Second, and more seriously, Apple appears to have created wording authorizing the bond's release that provides them with legal loopholes to avoid releasing the bond in certain cases where the court decisions was something of a tie, but where German law would still require Apple to cover Samsung's court costs.
Presiding Judge Andreas Voss expressed that the court was "unhappy" with Apple's word-games, since German law is the sole arbiter of whether or not the bond is paid.
We should note that there's no question that Apple could (and almost certainly would) pay the bond if the court requires them to. But the laws are in place for a reason, and Apple being the biggest company in the world doesn't entitle them to special treatment. Having the wrong employees sign the bond is probably a mistake of Deutsche Bank, and Apple should rightly be upset if their case is thrown out due to that.
But given the comments by Judge Voss, Apple's lawyers may have created a larger problem by trying to introduce wording that would "protect" Apple's interests; after all, it isn't up to Apple whether or not they pay out the bond, it's up to the court. Adding weasel words that appear to modify the conditions under which the bond can be released seems to be nothing but an act of hubris on the part of Apple's lawyers, and moreover one that could be quite costly –
the case now stands a good chance at being dismissed without prejudice over the bad bond.
If that happens Apple will be free to sue Samsung again using the same patents, but they will be starting over from scratch, and any near-term leverage Apple hoped to gain over Samsung would be gone. We'll be watching to see how this turns out, but either way it demonstrates that in the high-stakes mobile patent wars,
anything can happen.
source:
FOSS Patents