Apple's Do Not Disturb feature is now fixed, just like that
57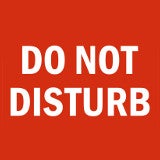 What do you know, the Do Not Disturb feature of iOS has just fixed itself, just like Apple foresaw. For those who don't remember, iOS users started complaining about a problem with the DND feature after New Year's Eve. DND has a Schedule option which allows the user to set a time when the feature should automatically turn on and off. Well, the thing is that
DND never turned itself off
after New Year's Eve, causing users to miss many important calls and messages.
Apple was quick to acknowledge the issue with DND, but it also said that
it won't be providing a fix
for it, since the feature was going to fix itself automatically on January 7. Although it's very interesting to know why this problem happened in the first place, as well why it got resolved today, we guess we'll never know, as Apple wouldn't care to provide an explanation. Still, it's a fact that the DND feature can now turn itself on and off automatically, as if nothing has happened.
After hearing this happy news, tell us, folks - do you use Do Not Disturb or a similar solution with your smartphone?
via:
GSMArena