Apple will put its water damage indicator in iPhones in a visible place, save money for repairs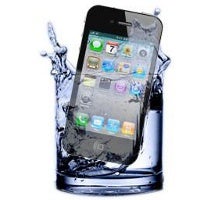 The iPhone is a fragile thing with its glass panel, but while you can replace even a broken panel, there's little you can do for your precious device if it gets dropped in water. And with the business of reselling used iPhones and iPads growing huge, Apple is now adding a valuable patent for a detector that will make it easy to see whether a phone was dropped in water or not.
That's of particular value for repair stores and those trying to estimate the cost of repair of a device. The sensor will be put inside the device and give "at least one visual indication after being immersed in water."
Thus Apple will protect itself better as a customer with an iPhone with water damage won't benefit from the company's insurance that doesn't cover this type of damage. Also, Cupertino will smartly place the sensor so it will be easy to see from the outside whether the device has suffered from water damage or not.
Now, that Liquid Contact indicator patent has been filed in 2010, but making it visible could save the company a lot of money for repairs.
"Water exposure is among major reasons that may cause significant malfunction of devices, such as electronic devices, which include electronic, mechanical, or chemical components," Apple explains in the patent filing. "Therefore, verification of significant water exposure (or water immersion) is important to manufacturers of the devices. For example, for purposes such as warranty claim assessment, trouble-shooting for repairs, and product development, a manufacturer of electronic devices typically needs to verify whether a malfunctioning device has been immersed in water."
source: CNET
http://news.cnet.com/8301-13579_3-57466695-37/apple-snags-patent-for-water-damage-detection/