Apple wants to prevent Steve Jobs testimony from being made public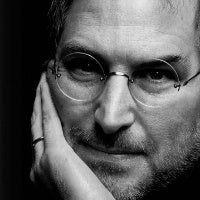 It turns out that smartphone manufacturers aren't the only companies that sue one another. We know, that's shocking, isn't it? As Apple has learned over the years, music companies also sue people, including Apple. Apple is embroiled in one such case right now, where companies that own, among other things, the rights to Eminem's music albums, are asserting that Apple still owes them a lot of money.
We have no idea who is in a better position there, but of possible interest to our readers is the fact that Apple is moving to block the release of video testimony of Steve Jobs (and some other senior executives) to the public. The testimony apparently contains many of the details of Apple's negotiations with UMG. Opposed to this is a cadre of musicians, who feel they have a right to know what sort of deals were cut between Apple and the label, and how it impacts the share of the pie that musicians receive.
So Apple, reigning king of the music download, is in the somewhat unpleasant position if trying to prevent musicians from understanding the negotiations that directly impact their livelihood. Apple says there are very important trade secrets that were revealed from their "highly private" negotiations, and point to the fact that when the testimony was first played the judge cleared the courtroom before it was shown to the jury.
Did Apple negotiate in bad faith in a way that served their needs over those of musicians? Most likely…they are a corporation, and corporations tend to put their own profitability ahead of the needs of others. But would that really shock anyone? Is there something more revealing in the Jobs testimony that they feel could permanently injure their reputation with recording artists? To be honest, it's hard to believe that there could be a bombshell large enough to disrupt their ironclad grip on the digital music industry. Perhaps they are less worried about what musicians think, and more concerned about whether it will cause other music labels to question the deals they struck with Apple?
Whether we ever find out what is distressing Apple here depends on how the judge rules on the
motion
.
source:
Hollywood Reporter
via
TUAW