Next iPhone delayed for October due to the 28nm chip shortages, to sport Liquidmetal casing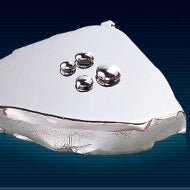 Qualcomm complained the other day about
the TSMC foundry not able to set up enough machines to cope with 28nm chips demand
, which means its Snapdragon S4 chipsets and next generation LTE radios might be rationed for a few quarters.
CEO Paul Jacobs clarified that the capacity strain on the giant foundry will be somewhat eased in September, but overall there will be supply issues throughout the year. That market reality has supposedly made Apple decide to release its LTE iPhone a year after the 4S, said Gene Munster from Piper Jaffray, thus moving its annual phone launch to October for the second time in a row.
The analyst also said it will sport a
new body design
, and a Korean news publication chipped in with its own sources saying that the next iPhone will sport Liquidmetal casing.
This alloy is an amalgamation of zirconium, titanium, nickel, copper and other stuff, that can be injection-molded for unibody designs, is very durable and is smooth like a liquid surface on the outside. The SIM card ejector on the iPhone is built with it, if you want to see what it feels like, but how it will look in an eventual iPhone chassis application is the billion dollar question.