Apple to pay the largest ever amount in offshore taxes, contribute $350 billion to the US economy
10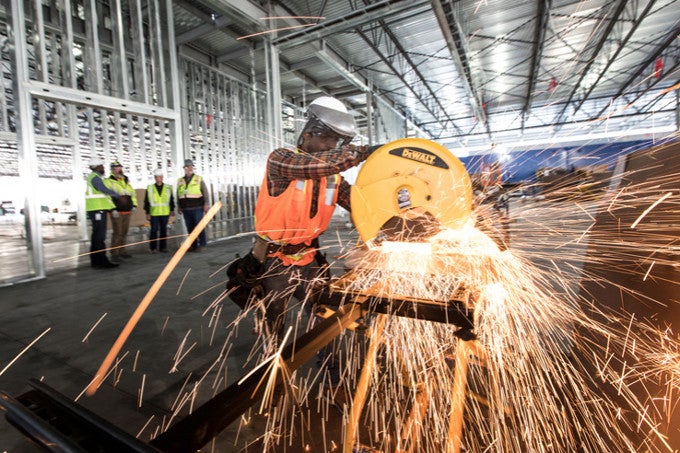 Sheet metal cutting for the new Apple data center in Reno
Due to the sheer size of its profits, Apple is the largest taxpayer in the world, and has outlayed over $35 billion in corporate income taxes in the last three years. Add to these $38 billion it will be paying to repatriate its profits held overseas, and Uncle Sam can only be grateful that so many folks are walking around with iPhones in hand.
Yes, Apple put out a press release announcing it will make its largest investments ever in the US economy over the course of the next five years - $350 billion - complete with pictures of sheet metal cutting, and factory floor assembly. That's Apple for you, the makers of the
A11
chipset. With this administration's
obsession about "made in America,"
and its push for local manufacturing, Apple is apparently trying to offset any potential pressure on its business as the most valuable company to do more for the US economy in particular.
Upon reading the finer print, though, it turns out that Apple will simply accelerate the pace of its relationships with American suppliers. Its current contracts with them are to the tune of $55 billion annually, so upping the investments by 25% will result in said $350 billion outlay in the US economy over the course of the next five years.
The more interesting news is that, thanks to the new tax bill that passed last month, Apple will be able to repatriate the $200+ billion in cash and equivalents it is currently holding overseas, and pay $38 billion on those, instead of the much higher domestic corporate tax rate. Still, this amount will be the largest such lump sum paid to the government ever, and Apple may take Uncle Sam off its case for the next few years at least.
As for real capital expenditures, Apple will be investing over $30 billion during said period, mainly in data centers, and a new campus on a site that will be announced later this year. This would result in 20,000 new jobs added to the 84,000 people that Apple already employs in America. Tim Cook reiterated this commitment to the US economy, placating the patriotic base with the following:
Apple is a success story that could only have happened in America, and we are proud to build on our long history of support for the US economy. We believe deeply in the power of American ingenuity, and we are focusing our investments in areas where we can have a direct impact on job creation and job preparedness. We have a deep sense of responsibility to give back to our country and the people who help make our success possible.