Apple successfully patents its implementation of folders and icon rearrangement in iOS
34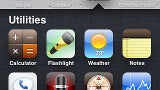 The USPTO (US Patent and Trademark Office) has granted Apple a new patent related to the way folders and icon rearrangement work in the iOS system. This is one of those patents that we can really say that Apple deserves, since it was none other than the Cupertino company that introduced these UI methods.
The creation of folders in iOS, for example, is an original idea that requires the user to simply take an app icon and drop it over another, creating a folder in the process. This method was later adopted by Google in Android 4 ICS. Icon rearrangement, on the other hand, requires the user to hold their finger over an app icon for a moment, which automatically activates the rearrangement mode, causing all the apps on the home screen to start "jiggling."
It's uncertain whether this patent will help Apple defend its ideas, but still, it's good to know that the patent is held by its rightful owner. Here's the abstract from the patent application:
A multifunction device displays a plurality of selectable user interface objects on the display. In response to detecting the first input, the device moves a first object in the plurality of selectable user interface objects across the display to a location on the display that is proximate to a second object in the plurality of selectable user interface objects. In response to detecting that the first input meets predefined folder-creation criteria while the first object is proximate to the second object, the device creates a folder that contains the first object and the second object.
source:
USPTO
via
AppleInsider