Apple stock drops, but don't panic: this usually precedes huge earnings growth
46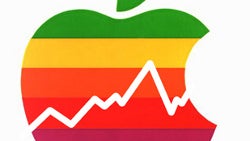 Apple stock is crashing. The stock suddenly looks bearish despite the super successful iPhone 5, the new iPad mini and upgraded iPad. Is it time to panic?
Not so fast. Even though Apple just lost an Intel of valuation over the past couple of weeks, that might be more of an unsurprising reaction from investors. Asymco's Horace Dediu studied 13 cases of Apple stock going bearish starting with the iPod launch in October 2001. Interestingly enough, a pattern emerged.
"Every dramatic drop in share price was followed by a surge in earnings growth,"
Dediu concludes. For example, when the iPod launched, Apple stock was already down around 70% and then continued dropping by another 20%.
It could all be summarized in the lack of certainty from investors. Summing it up, investors tend to push the stock gradually up when confident, but pull it down dramatically when not.
"One could even say the worse the bear, the better the growth. Sounds completely counter-intuitive, but there is some perverse logic in this as well. The market reflects crises (as well as over-abundance) of confidence. Unforeseen growth is what creates wealth and the crisis in confidence is a reflection of the improbability of continuing out-performance. When Apple's performance is foreseeable the stock moves slowly upward. When its performance is unforeseeable the stock moves dramatically downward.

A pithy way of putting it is: No news is good news. Good news is bad news.

When a product is understood the stock is mildly desirable. When a new product appears the future is hazy and the stock is undesirable. But that haziness hides potential but up and down. New products is what innovators produce. Bizarre new products is what disruptors produce.
In other words, the paradoxical observation in the chart above of "the more drama in the market, the more success in the marketplace" makes sense when inverted," according to Dediu.
We don't know whether this time around the same pattern will hold. What we do know, is that panic is probably not the best reaction.
source:
Asymco