Apple spokesperson: Recent staff cutbacks were a mistake
17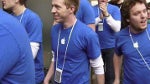 It appears Apple has realized that laying staff off in the period that's preceding major device launches is not a very wise thing to do. With a new head of retail for the company, John Browett, Apple has made some small staff cutbacks recently in some of its UK stores. The reasoning behind this decision is unknown.
Now, however, Apple spokesperson Kristin Huguet has informed Bloomberg that these cutbacks weren't such a good idea, and Apple will be returning to its old policy, meaning that it'll try to get those employees back to their workplaces or hire new ones.
"
We recently implemented some changes in retail staffing. Making these changes was a mistake and the changes are being reversed.
"
Sure, the statement is quite diplomatic, but the idea is clear enough. Now it's probably a good time for those employees who lost their jobs (and would still like to work for Apple) to contact the company.
Still, it makes us wonder why would Apple be interested in laying staff off, when you know that the following months are expected to be crazy for their retail stores, due to the
upcoming new iPhone launch
. Anyway, maybe it was exactly this launch that made Apple reconsider its attitude towards store employees.
via:
SlashGear
Recommended Stories