Apple site confirms iPhone 5 name (and LTE support) prior to announcement
59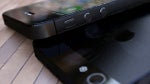 It turns out the search tool on Apple's site is very good. So good, in fact, that it has found what the name of the upcoming new iPhone is going to be. And the new iPhone is going to be called...
iPhone 5
! Amazing? Well, not really, but at least it's not iPhone 5 4G LTE (4.0) or something.
The search goof was first found by 9to5Mac, who, we guess, are currently hitting the F5 button of their browsers every 10 seconds. Anyways, the search result has actually found the 'iPhone 5' name as part of a link to the announcement press release, which currently leads nowhere.
Additionally, using the same hi-tech method, 9to5Mac has also found evidence of the new iPod touch and iPod nano, but again, no other information is currently available. We only know that they are coming!
Well, so much for the 'new iPhone' theory, for now at least. The best thing is that all will be come clear in just a few hours. Stay tuned to PhoneArena, as we'll have a lot of interesting coverage for you!
via:
SlashGear

UPDATE:
Using the same method, it was also confirmed that the new iPhone 5 will feature LTE. Of course, the page itself is still unavailable, but at least we now know that it's only a matter of hours until it's officially official. Check it out
here
.