Apple set to ship over 20 million iPads in Q3
26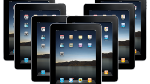 It's hard to argue success, and the iPad is most certainly a success. The device opened up a completely new consumer market and has led to an amazing array of competitors looking to knock the king of his throne. For now though, the iPad is staying on top, and a new report has Apple supplier Foxconn increasing its production numbers to meet the demand for the tablet.
An unsourced report from the
Taiwan Economic News
is saying that Foxconn-owner Hon Hai Precision Industry Co. has adjusted its numbers from a projected 14 million iPad shipments in Q3 of this year up to an incredible 20 million tablets. In its
last earnings call
, Apple reported selling 9.52 million iPad 2s, but did also have supply shortages at times. It seems the company doesn't want that happening again, and will be making sure there are enough iPads to meet demands.
We're still waiting to hear the numbers for last quarter, which will be coming next month. But, it does seem like it's going to be another huge year for the iPad.