Apple seeks $380 million from Samsung for patent infringements
32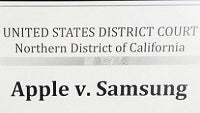 The re-trial between Samsung and Apple is underway. A jury has been picked and now we can begin marking time through the holidays as a new drama unfolds between the two technology giants.
Apple is seeking to get $380 million from Samsung and Samsung is going to make the case that it should have to pay no more than $53 million. You can see the soap opera building already, right?
The $1.05 billion that Apple had been awarded by a jury last year was slashed by Judge Koh to the tune of about $450 million, leaving just under $600 million from the verdict intact. Whatever comes from this go-around, if Apple prevails, the awards from this trial will be in addition to the check that Samsung is already on the hook for.
Apple claims that some of the $380 million sought in the case is due to lost profits, based on the claim that the company might have sold as many as an additional 360,000 more devices if Samsung had played by the rules.
Of course, the lawyers on both sides of the argument feel that their opponents are woefully in the wrong. Apple contends that Samsung made billions off of equipment that infringed on Apple's patents. Samsung says that Apple is simply asking for too much money.
The first day's drama saw four witnesses take the stand on behalf of Apple. The festivities will continue tomorrow.
source:
Ars Technica