Apple 'secret project' with French designer Philippe Starck really just a big boat?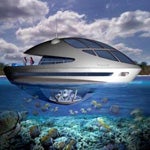 Rumors have been circulating around the internet about comments made by Philippe Starck, a french designer. Starck was interviewed by a French radio station, where he hinted at a "revolutionary Apple project" that he couldn't discuss in detail due to Apple's secrecy. Apple immediately denied that it was working with Starck on any such project.
Now, Starck has clarified his comments stating that the project he referred to was actually a custom luxury yacht he had been working on for Apple CEO and Founder Steve Jobs prior to his death in 2011.
Steve Jobs wrote about the project in his biography. Jobs and Starck had been working together for a long time, redesigning the yacht numerous times prior to Jobs' death. Starck goes on to say that the yacht design has gone so far into the design process that it must be completed at this point. The French designer continues to meet with Jobs' widow, Laurene Powell Jobs, on a monthly basis to finalize plans and complete the building process of the yacht.
Starck gives additional details to the yacht, citing Jobs' fascination with glass, a likely prominent feature on the soon to be built yacht. The project is likely to be completed by the end of the year, and we will be very excited to see what it looks like. If Apple stores or the new Cupertino corporate office design are any hint at what a Steve Jobs boat will look like, we're on the
edge
of our seat waiting to see the mega yacht!
source:
electronista