Apple responds to reports claiming long working hours and low pay at Apple iPhone 5C factory
27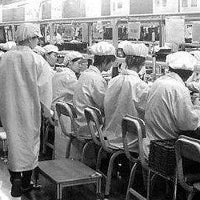 A recent report about working conditions at a Chinese factory where the Apple iPhone 5C is produced, reflects poorly on the Cupertino based tech giant. According to the report from China Labor Watch, the group in the country that stands up for worker's rights, those assembling the
Apple iPhone 5C
are working on their feet 11.5 hours a day. The watchdog agency has a laundry list of problems at a plant in Wuxi, China that is owned by U.S. tech corporation Jabil Circuits.
Other infractions include a discrimination against hiring those in the 18-35 year old bracket and against those wearing a tattoo. Training is only two hours with very little information on safety issues, leading workers to wear safety equipment incorrectly. Workers are forced to be on the line for 11 hours of unpaid overtime monthly. And in order to meet high production quotas for the Apple iPhone 5C, Jabil's own Standard Operating Procedures are ignored and overlooked. The workers, who make $245 monthly, are living in dirty, crowded dorm rooms according to the report. If you want to read the entire list of infractions, click on the sourcelink.
"Employees at Jabil are among the 1 million workers in Apple's supply chain whose working hours we track each week and report on our website. Year to date, Jabil Wuxi has performed above our 92% average for compliance with Apple's 60-hour per week limit. An audit completed earlier this year did find that some employees had worked more than six consecutive days without a day of rest, and Jabil has been working with our team to better manage overtime...We are proud of the work we do with our suppliers to improve conditions for workers. Our program goes far beyond monitoring by ensuring corrective actions where they are needed and aggressively enforcing our supplier code of conduct wherever Apple products are made. We believe in transparency and accountability, both for our suppliers and ourselves."-Apple
Apple has responded to the charges by stating that it has audited the plant 14 times since 2008, 3 times in the last 3 years, and has found the factory to be largely compliant with Apple's standards. Apple's own web site includes a chart showing its supplier's compliance with a 60 hour work week. As of June, Apple's suppliers were averaging a 99% compliance rate.
source:
ChinaLaborWatch.org
via
BusinessInsider