Apple refuses to participate in the megapixel war, iPhone 5S sticks with an 8 MP camera
34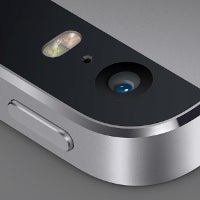 Many of us expected Apple to introduce the new iPhone 5S with a camera that packs more megapixels than the previous one. The iPhone 5 came with an 8 MP snapper, so it was only fitting for the 5S to upgrade that to a 13 MP one. However, in a move that is just slightly surprising, Apple has once again equipped its flagship smartphone with an 8 MP shooter. Are we disappointed? Absolutely no.
It seems like after the iPhone 5, there were two routes in front of Apple when it came to the iPhone camera. It could either increase the number of the megapixels to 13 and preserve the sensor
pixel
size as it is, or preserve the number of megapixels and increase the pixels size to 1.5 microns. Obviously, Cupertino has chosen the latter, arguing that an 8 MP camera with bigger pixels will produce noticeably better photos than a 13 MP camera with smaller pixels. Whether this is going to be so remains to be seen, but we can't you tell just how impatient we are to pit the iPhone 5S's camera against its biggest rival, the Galaxy S4 (which packs a 13 MP shooter), once Apple's latest hits the market.
Obviously, we can't be sure yet if all this is going to lead to better images than what a great 13 MP snapper, such as those on the GS4 and G2, could produce, but we're absolutely certain that the iPhone 5S will sport a fantastic camera. Actually, Apple has also added some other useful features to enhance your photos even further. For example, there's the so-called True Tone Flash. As you've already seen, the iPhone 5S sports a dual LED flash, but it's not just a dual LED flash, because the new light will have an amber color. Using some custom software algorithms, the iPhone 5S will determine just how much of an amber light you need in order to "fix" the color temperature of the shot. You know how often pics turn out somewhat bluish or yellowish/reddish with your smartphone camera, right? Apple claims that it now has a solution for this, as the amber LED should compensate for the imperfect white balance of a shot, rendering skin tones truer (hence the name) and highlights more accurate.
In a way, we're glad to see Apple move away from the megapixel war. Having in mind that most people use their handsets for quick snaps and picture sharing on social networks, uploading gargantuan 13 MP images was starting to get a bit frustrating, especially when using a mobile network. With 8 megapixels being a sufficiently high resolution, we really hope that the bigger camera sensor and aperture of the Apple iPhone 5S will lead to substantially better photographs.
Check out these supposedly
not
retouched photos that Apple has taken using the iPhone 5S:
iPhone 5S camera samples by Apple