Apple receives a patent from the USPTO for devices with a flexible display
53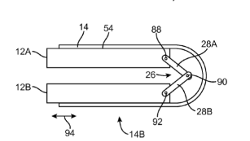 The USPTO revealed today that it has issued a patent to Apple for a smartphone that can be folded in half thanks to a flexible display. Patent number 9,504,170 was assigned to Apple for the patent titled
Flexible Display Devices
. When the phone is not in use, the screen folds up like a clamshell device thanks to a hinge that connects both halves of the screen. The hinge is designed to allow for a front-to front or back-to-back configuration.
Apple will use flexible Printed Circuit Boards to connect the inner workings of the two halves. Rollers can be used to help reel in the screen or dispense it out while the hinge is in use. While Apple is expected to offer a premium 10th anniversary iPhone model next year with a flexible OLED display, the thinking is that Apple won't stray from the current design. If Apple does take a risk, it most likely would be with a glass display covering close to 100% of the phone's body. Touch ID would be embedded in the screen.
Apple currently has a back up virtual home button
on the
Apple iPhone 7
and
Apple iPhone 7 Plus
that works the same way if the regular home button fails.
Check out images directly from the USPTO's documentation. Simply click on the slideshow below.
source:
USPTO
via
AppleInsider