Apple patents a magnet structure for the iPad, which will bring new possibilities for smart-accessories
4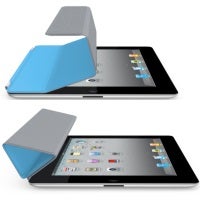 Another Apple innovation-in-the-making has surfaced from the depths of the USPTO. This time, it's a different take on the magnets inside the iPad, which could expand the possibilities for smart-accessories. Currently, the magnets inside the iPad are only used to anchor covers and cases to it, but Apple's engineers can't stop here. The proposed "keyed magnetic structure", which is a specific arrangement of magnets, can be positioned on any side of the tablet. It can be deployed alongside traditional magnets and electromagnets that can receive input from the operating system.
Another one of many possible uses for the patented technology is connecting an iPad to accessories, other devices, and even other iPads with unprecedented ease. Apple illustrates this with a drawing of two tablets attached via a magnetic connector. This forms a system that will probably make playing Battleship a blast.
The patent will allow for detachable covers with integrated keyboards, drawing pads, and other inputs. Or altogether different kinds of smart-accessories, such as a magnetic stylus holder that makes the iPad activate and deactivate stylus recognition on attaching and detaching it. The user makes no input whatsoever. In another example, a new type of accessory allows the tablet to be hanged on walls, or carried like a briefcase.
Another interesting possibility is a magnetic ring. The user wearing it can control the iPad's Hall Effect sensor, which is the mediator between the tablet and the Smart Cover. The user will be able to control different software functions this way.
It's not yet known when the iPad and related accessories will make use of this technology. But the date can't be that far off in the future. It will be interesting to see what the accessory manufacturers will come up with when they have these new possibilities at their disposal.