Apple patented glow-in-the-dark cables for iPhones because we do deserve nice things
38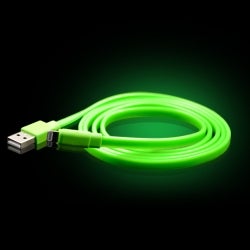 After spending long years in the consumer electronics business, Apple has figured out another bullet point of customer dissatisfaction. Dealing with cables and connectors inside a dark room is anything but a smooth process. With so much fidgeting involved, it desperately calls for innovation. Going by a newly published patent, Apple engineers are trying to solve this by illuminating connectors' ends. Thus, in addition to looking rad in the dark, the invention will also provide status information.
The system employs one or more LED lights to bring visual information to users, signaling with different light colors, sequential light or color pulses, and so on. Lots of information can be implied or indicated in this matter. Think of it letting you know that a battery is charged to a certain level, or that your iPhone is now in sleep mode. Overall, Apple's method is not to be confused with the glowing cables you can buy online – they are merely "party cables" while the ones Cupertino envisions are full-fledged signaling systems.
The LED system will work across USB-C, Lighting, Thunderbolt, and other types of connectors found on Apple devices (such as HDMI or DisplayPort on Macs). So, who's up for glow-in-the-dark Lighting cables? And, more importantly, how much do you think the official colored LED Lighting cable by Apple is going to cost? We shudder at this thought a bit, but then again, we will admit that glowing cables are cooler than boring non-glowing ones. Let's hope Apple will set this patent in
motion
within reasonable time!
ALSO READ