Apple patent suggests Face Unlock coming to Apple iPhone and Apple iPad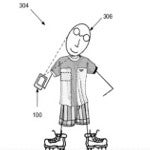 According to patent documentation released by the USPTO this week, Apple is working on a system that would allow the
front-facing camera on the Apple iPhone and Apple iPad to scan your face to unlock a device
. Similar to Google's Face Unlock on Android 4.0, if the face cannot unlock the model, a code would be punched in to release the device. The patent was filed in September 2010 and was credited to John E. Arthur.
If the detected human face is recognized… an operation of the (device) can be modified based upon the recognized human face. The modification can include executing a pre-defined set of operations such as opening email, opening text messages, and so forth
."
This is not the first time that a Face Unlock type of technology has been linked to Apple. Back in 2010, before the introduction of the OG Apple iPad, the Wall Street Journal noted that an early prototype of the tablet used a front facing camera to recognize users' faces to make it a device that the whole family could use. Of course, that feature never made it out of the lab.
The latest patent application revealed this week included some new features including one that would adjust the orientation of a screen to the users face. Another feature would allow a device to lock if a human face hadn't been seen over a certain period of time.
The patent unveiled this week by the USPTO is different than one that we told you about last December. That filing concerned itself with Apple iPhones and Apple iPads that could
automatically customize applications, settings and features
to the personal preferences of the user once the device was picked up and the user's face scanned
source:
AppleInsider