Apple patent for displays woven in fabric promises Watch tech we'll likely never see
29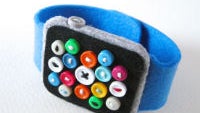 In general, the rumor mill is a continuous stream of things you could probably guess - Samsung will announce the Galaxy S7 in early 2016, Apple has something big coming at WWDC, etc - but then we get the more interesting ideas that usually pop up in patent filings. More interesting, but also far more likely to never see the light of day. The latest from Apple is a patent for displays woven into fabric.
The patent describes fabric that "includes light transmissive fibers woven into the fabric to provide a visual display." The fabric may be used as a tether to connect a portable electronic device to a useror the light transmissive fibers may transmit light to essentially act as a display itself. The fibers would be able to light up in full or in pieces, and the patent also does mention watches directly. The fibers could act as notification lights (because somehow it would be impossible to add notification lights to a watch, or use an OLED display and only light up a notification area?) and connect to wearables, phones or laptops.
Basically, some engineer at Apple had a fever dream, drew up the plans and filed the patent, because that's standard policy at Apple. Sure, it is slightly possible that we'll see this down the road, but in reality the tech to make this work is probably too expensive for consumer devices and has limited use cases. So, as could be said of plenty of patent filings, we'd suggest you don't get too excited about seeing this on the market.