Apple in talks with Intel to switch chipset production away from Samsung's foundries
11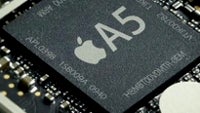 Now this is an interesting development. After Intel hinted that it is open to accept in its foundries production of chips for other companies, even ones based on ARM's designs, a Citi analyst claims that Apple is probing possibilities to move from Samsung's foundries to Intel for its A4 and A5 chipsets that are powering the current generations of the iPhone and iPad.
And the story gets juicier - both companies are to start off with manufacturing, but Intel wants to make chip designs for Apple in the future, and be its sole provider. ARM-based silicon is all the rage now, but Intel is planning to have its
22nm production process ready before anyone else
, and should have benchmark-beating mobile chipsets by 2013.
All of this doesn't sound like Apple moving to Intel because it has something better to show than ARM in this very moment, but it sure sounds like Cupertino is trying to diversify from Samsung, which is producing the bulk of silicon that goes into the iPhone and iPad. Or maybe Apple just doesn't feel comfortable having all its eggs in one basket.
Still, that
lawsuit
it filed against the South Korean company might be having some repercussions already, after all. If that's the case, the probability of seeing
AMOLED displays on Apple's gadgets
is slowly approaching zero.
source:
BusinessInsider
Recommended Stories