Apple iPhone picks up U.S. smartphone share while Android still is on top of latest survey
23
The latest survey from Nielsen, a snapshot of the U.S. smartphone industry as of May 11th, shows a
renaissance of sorts for the Apple iPhone
. Android powered smartphones hold a
commanding lead
in U.S. market share with 38% of the total, up from the 36% reading seen in the three months ending in April. The Apple iPhone gained 1% over the same time period to grab a 27% share of the U.S. smartphone market, but more importantly, the latter device was the
only phone to gain share
in the last three months among
recently purchased
smartphones.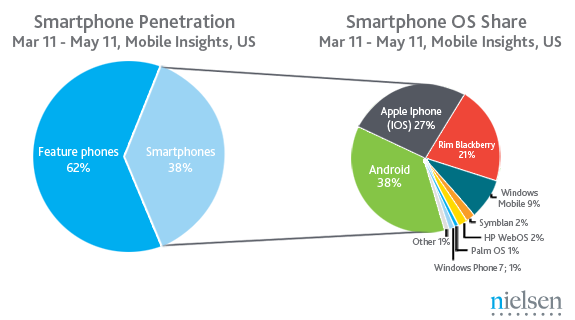 Android and Apple both gained share in the U.S. in the last 3 months at the expense of RIM
Of those phones recently purchased in the
last three months
, the Apple iPhone had a 17% share, up sharply from the 10% reading from the three months ended in mid-April. During that period, Android's share was flat at 27% meaning that the iPhone is currently
driving the market
in the U.S. RIM's share of newly acquired devices was just 6%,
off sharply
from the previous survey's reading of 11%. Microsoft's Windows Phone 7 accounted for just 1% of new purchases. In an interesting breakdown, 55% of all new handsets bought in the three months to May 11th were
smartphones
while the 45% balance belonged, obviously, to
featurephones
. 15 months ago, featurephones accounted for a
whopping 68%
of newly acquired phones.
Returning to current market share, after Android and Apple, RIM comes in third with a 21% slice of the U.S. smartphone pie. This is a 2% drop from the prior report and is obviously affecting the Canadian based company. As we recently
reported
, there is speculation that the BlackBerry manufacturer has scrapped plans to build a 10 inch PlayBook tablet and will focus instead on a
Superphone
using the QNX OS. Among other operating systems. Windows Phone 7 has 19% of the market while defunct Windows Mobile still controls 9%. HP's webOS and Symbian each account for 2% of the market.
source:
Nielsen
via
BGR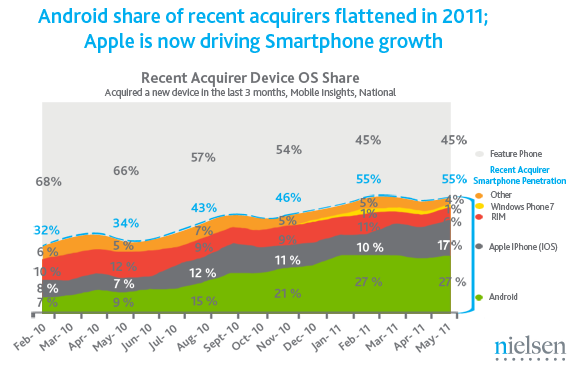 The Apple iPhone was the only smartphone in the U.S. to gain share among newly acquired devices in the last 3 months