Apple iPhone XS Max: unboxing and first look
59
Apple's latest iPhones launched yesterday, offering a mixture of sizes and price points to consumers. The biggest one out of the bunch, the Apple iPhone XS Max, just recently arrived at our front door and we're giving it the proper unboxing and first look treatment! Sure, the $1099 starting price of the new phone is a wallet buster like no other, but it'll be interesting to find out if it has some substantial justification behind it.

iPhone XS Max
EarPods with Lighting Connector
Lightning to USB Cable
USB Power Adapter
User Manuals
Apple Decals
Due to the phone's bigger size, which also holds the record for the largest screen in an iPhone to date, it's no surprise that the packaging has been lengthened in order to accommodate it. Slapped right on the front is an image of the phone in question, which is also scaled to size to give us a sneak peek at what to expect. And in typical Apple fashion, the rest of the iPhone box is fairly minimalistic. Of course, the iPhone XS Max is the standout item inside of the iPhone box, which comes with the usual set of goodies. They include the EarPods, Lightning cable, wall adapter, user manuals, and yes, those Apple decals.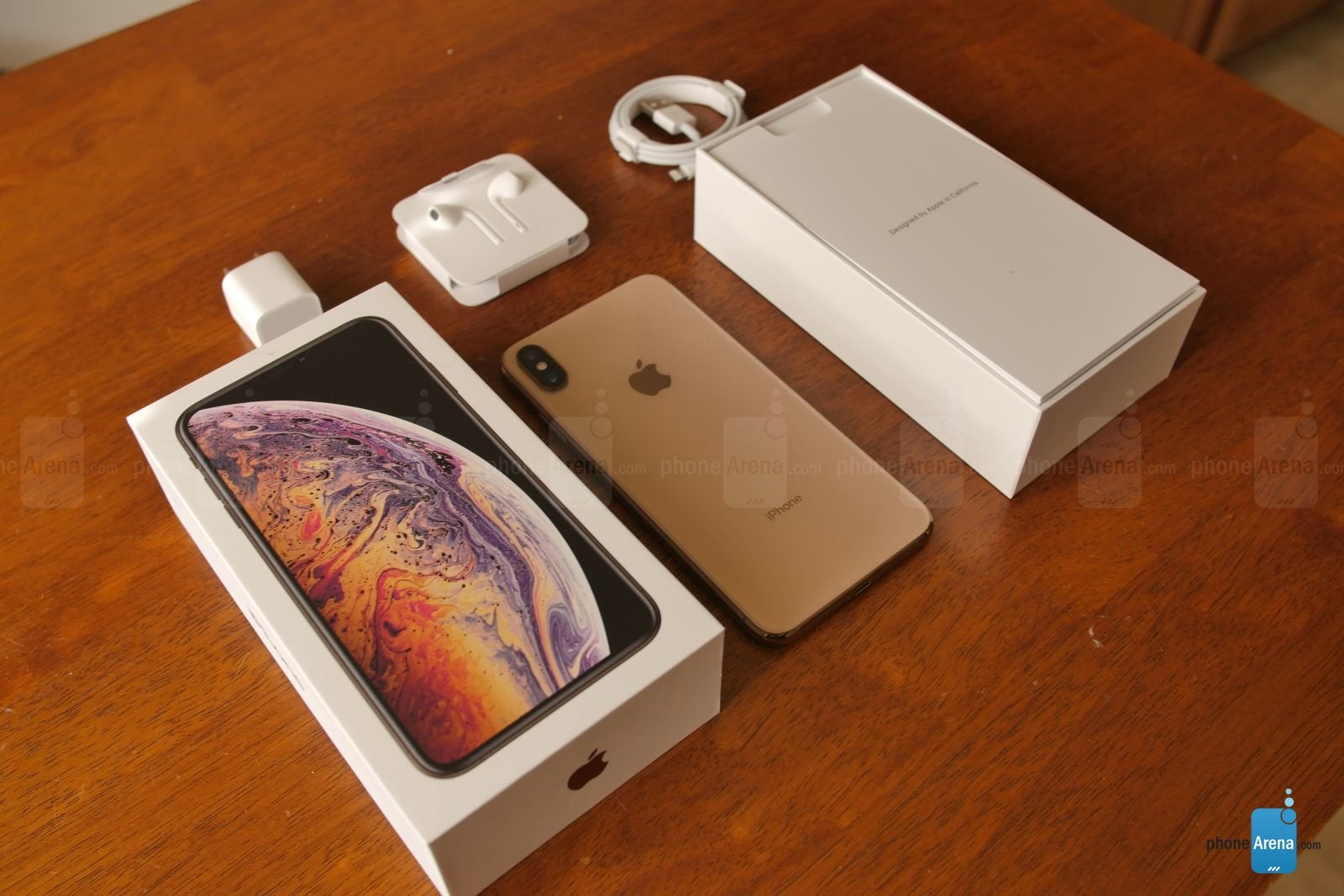 Bigger size, new color
Even though Apple has in the past offered a gold colored variant of its iPhones, the company introduced a slightly new hue with the new line. Since it's sporting glass surfaces, the gold color here with the iPhone XS Max shimmers when it's held at various angles in the hand. Straight on, the distinctive gold color is apparent, but looking at it in other angles makes it appear almost white in tone. Regardless, the stainless-steel frame matches the new paint job with its equally compelling gold colored accent.

Not surprisingly, the build quality of the iPhone XS Max feels substantial. Yes, it's more of a handful to operate than last year's iPhone X, but it's relatively in the same scope as other phablets in the space – like the Samsung Galaxy Note 9. In fact, the two seem to match each other almost entirely, so for those used to handling gargantuan sized smartphones, they'll feel right at home here with the iPhone XS Max. There's obviously a lot to check out on this phone, so we'll be putting it through the testing routine to see how it stacks up against the competition.
Expect our in-depth review soon!