Apple iPhone 5S in-store screen replacements to grace US customers with broken displays
10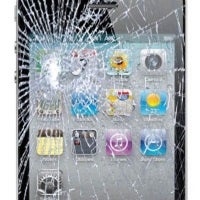 Broke an
iPhone 5S
screen recently? There is hope amidst despair, as Apple Insider reports that some Apple stores in the USA have begun doing on-site iPhone 5S screen replacements for customers. It is said damaged displays could be repaired in as little as an hour. Previously, iPhones with fractured panels were to be shipped to Apple for service, which could take days. The service will cost you $149 if you don't have AppleCare - for comparison, off-site replacements are quoted a steep $269.
Cupertino has confirmed that screen replacements have been rolling out to US Apple stores, although availability is not guaranteed for all locations.
Apple began doing in-store screen replacements in 2009, but it usually takes time before the service extends to each new iPhone model. The in-store program has customers bring their handset for evaluation by the store's technicians who will examine it for water damage and other hardware before coming up with turnover time and a price estimate.
source:
Apple Insider